The following article appeared in the May 2021 edition of Baltimore Magazine in the HOME & LIVING section
REPRINTED IN PART WITH PERMISSION
From the Ground Up
A new build gives a couple a house that finally feels like them.
Homeowners Lisa and David knew they were ready to leave behind the Owings Mills house where they raised their three children. While it held good memories, the couple was not sentimental about jettisoning its center-hall colonial style.
"We always thought we'd build some day, but, with three children in private school, we had other priorities," Lisa says.
So, looking to downsize, the couple, who asked their last name be withheld, cast a wide search net. "We looked at condos and rowhouses in the city, but nothing piqued our interest," David says.
Plan B: They switched gears and decided to build from scratch, purchasing a private "flag lot"—real estate parlance for a parcel lying at the end of a long driveway—in Lutherville. The driveway is the metaphorical flagpole, while the shape of the lot is rectangular, like a flag.
They then enlisted the expertise of Peter Twohy of 2e Architects and interior designer Lela Knight to construct a new home that would be the complete opposite of their traditional former abode.
"When we first met with Peter, he gave us homework," David says. "He gave us a questionnaire that got down to the minutiae of everything we did in the house, down to whether Lisa put on her makeup standing up or sitting down."
After the exhaustive survey, meant to provide Twohy with clarity on their lifestyle and priorities, he asked that they look online and in magazines to find stylistic inspiration, which, for the couple, turned out to be a mid-century aesthetic. Lisa, whose father was a commercial architect, grew up in a home that had mid-century touches, while David discovered an interest in the designs of California-based builder Joseph Eichler and a passion for clerestory windows, a section of wall with windows above eye level. This was all good news to Twohy.
"The magic of this flag lot is it is significantly behind any neighbors and it's a sloped lot, not good for a family with kids to set up a soccer goal, but perfect for an upside-down house with the main living at the entry level and more bedrooms at ground level with an exit to a pool," says Twohy.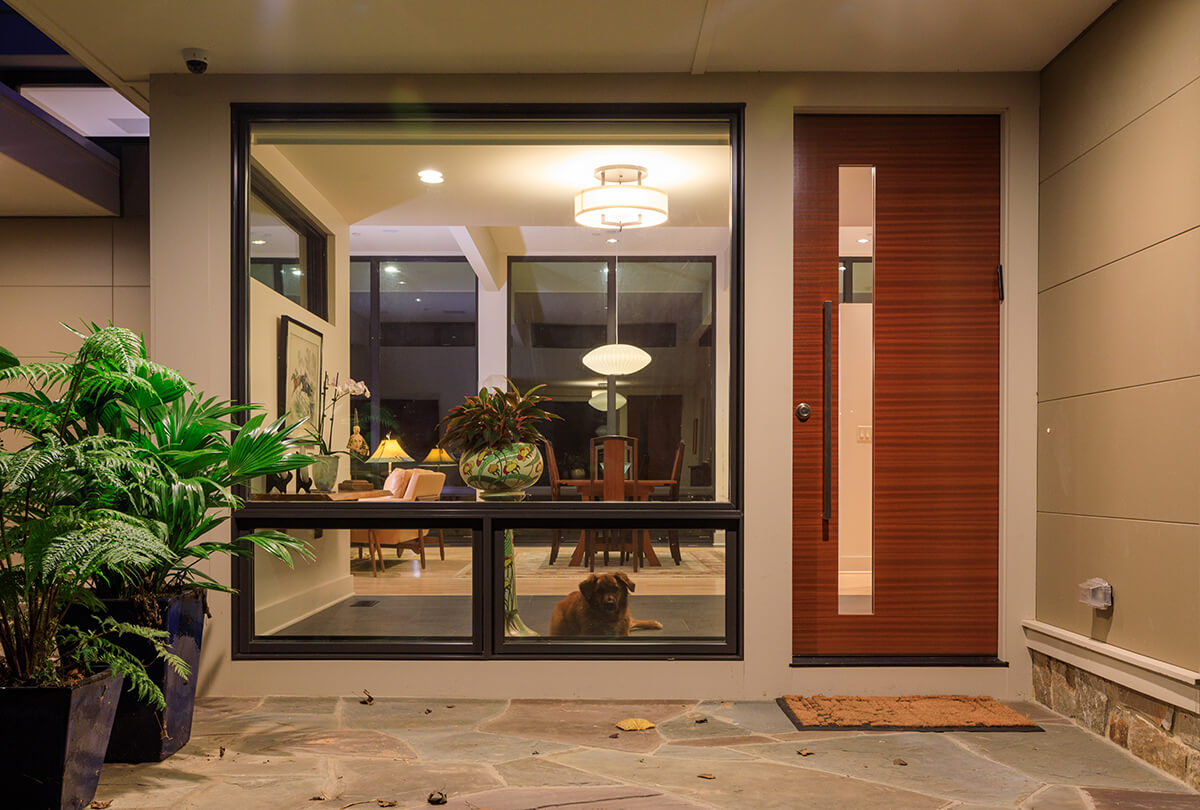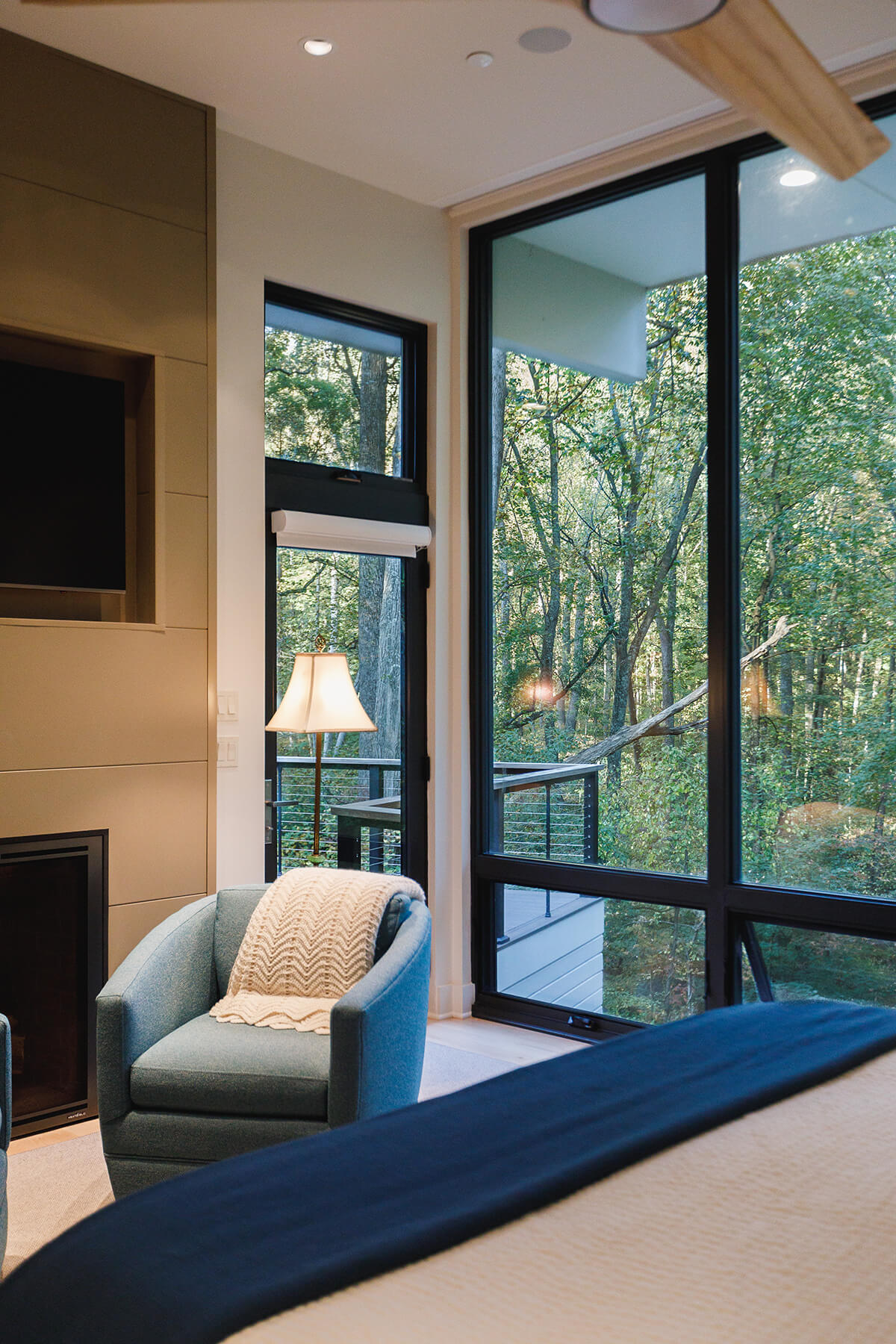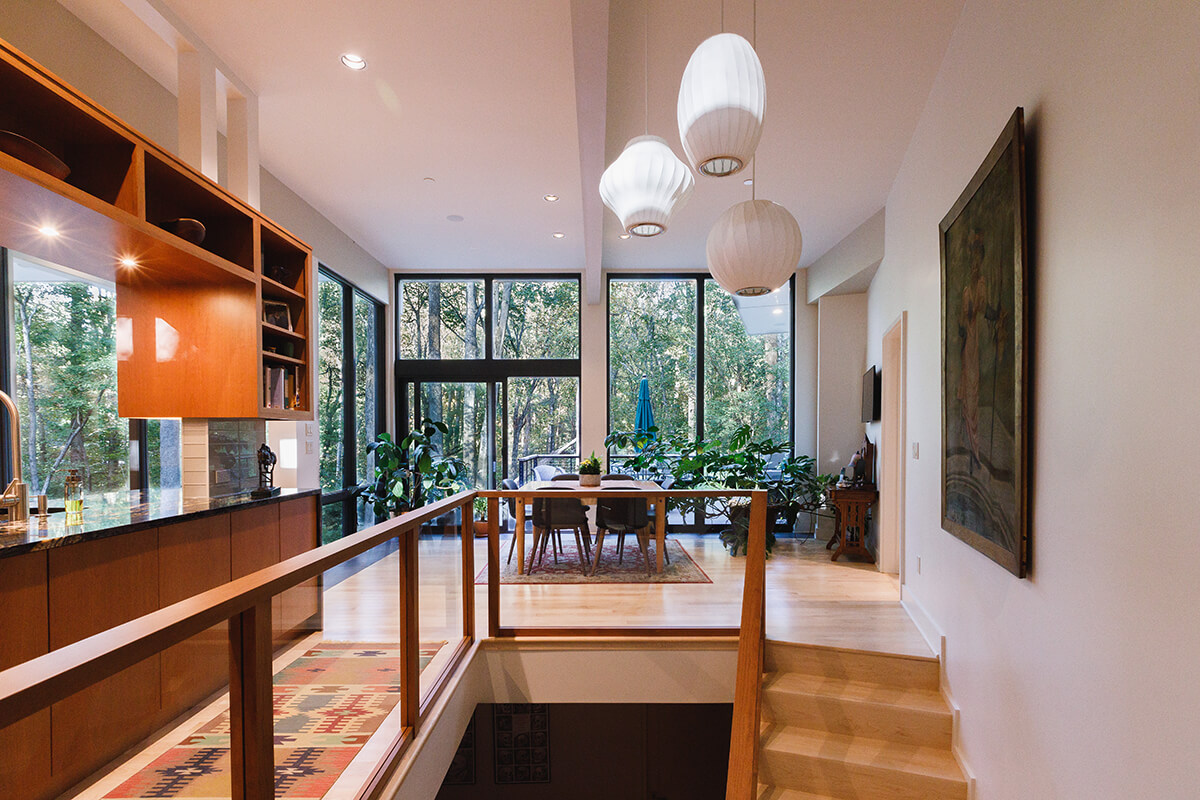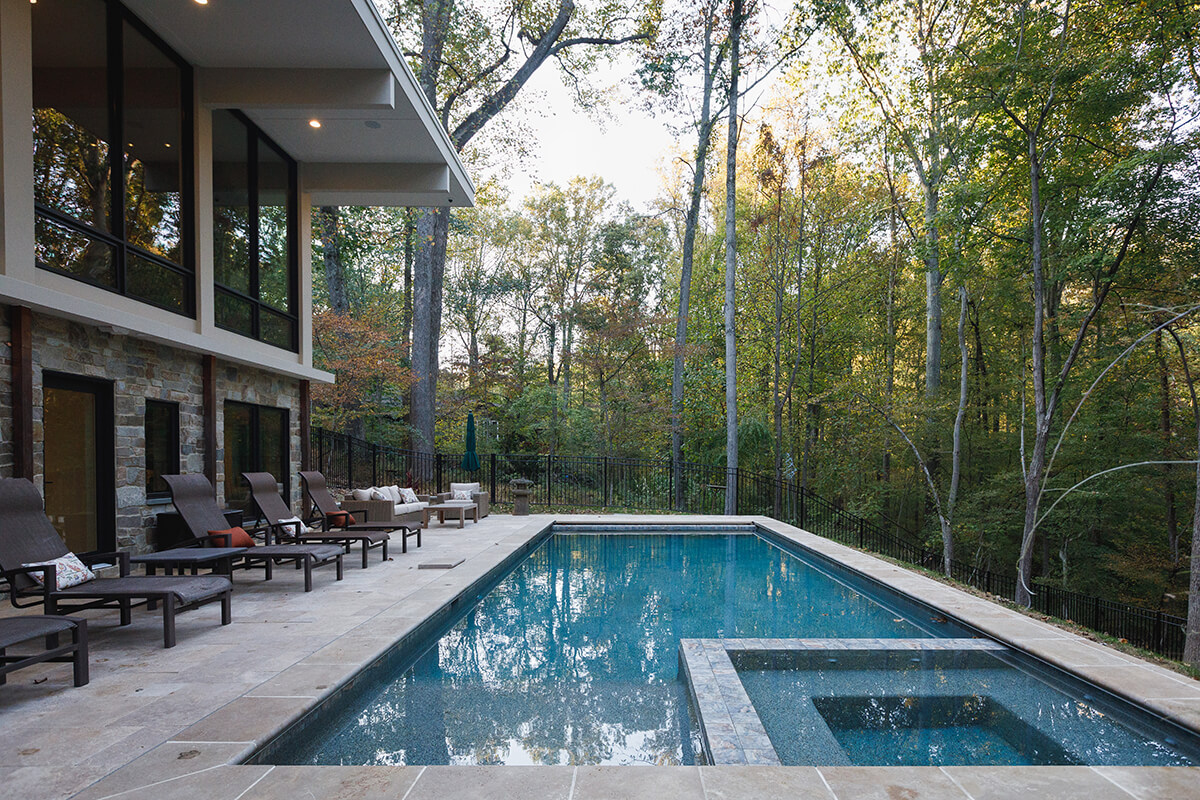 Lisa and David had a reasonable wish list: For one, they frequently entertain and wanted to be able to leave a mess in the kitchen and not see it when they host a dinner. They also typically have more than 20 guests for Thanksgiving, so they needed a large dining space and commissioned a custom table for that purpose.
In addition, each of the children needed a bedroom for extended visits, as only one child lives nearby, and they requested an elevator for aging in place.
Usually, Twohy creates detailed drawings, but they can be hard for laypeople to visualize, so he also used virtual reality this time around, enabling the clients to actually be "in" the house and move through it, creating absolute clarity of the end design.
Twohy's design nestles the 3,800-square-foot home into the slope. A master suite, kitchen, and living and dining areas are all at entry level, so the couple can live almost entirely on one floor. At ground level, there are bedrooms for the kids, a recreation area, and a workout niche, all facing onto the pool. Rather than ruin the home's view with a deck extending across the home's back, Twohy offset it.
"The biggest compliment I can pay this house," she continues, "is that though I was hesitant to leave our family home and those memories, we don't miss it at all, and neither do our kids."
To read the full article Baltimore Magazine, May 2021 issue.
See more about the home featured in this article, Lisa and David's home in our Portfolio.
Architecture: 2e Architects
Interior Design: Lela Knight Interior Design
Builder: F.C. Batton & Son
Structural Engineer: Sweeney Engineering, P.C.
Kitchen Design: Rackl Christopher Associates
Pool Design: Paradise Pools
Custom Furniture and Mantels: John Landis Cabinetworks
Granite: Rock Tops Fabrication
Landscape: Tannenhof Horticultural Services
Cabinetmaker: Dreamwoods Limited